1866 Campaign
I purchased the book, "The Battle of Königgrätz" by Gordon A.Craig, in 1965. It travelled with me on three visits to Austria and two to Germany (west) when I was researching the battle myself. Due to complications regarding visas and other difficulties arising from the communist occupation of the Czech Republic (then Czechoslovakia) I never managed to visit the actual battlefields of  the 1866 Austro/Prussian War.
With the fall of the Berlin Wall in 1989, together with the breakdown of the communist regimes all over Europe, I managed to travel to Saxony and stay with friends who took me to several museums that had uniforms and weapons from the 1866 campaign. Thereafter, in 2015, along with my friend and battlefield panorama photographer, Robert Series (Dr Bob), we managed two visits to the main battlefields of the 1866 war, taking in Trautenau, Podol, Nachod, Skalitz and Gitscin, as well as covering the whole of the vast battlefield of Königgrätz itself; a truly wonderful experience.
The Austro-Prussian War or Seven Weeks' War (also known as the Unification War, Prussian–German War, German Civil War, War of 1866, as well as Brothers War or Fraternal War, and in Germany as German War) was fought in 1866 between the German Confederation ("Deutscher Bund") under the leadership of the Austrian Empire ("Kaisertum Österreich") and its German allies on one side and the Kingdom of Prussia with its German allies and Italy on the other, that resulted in Prussian dominance over the German states.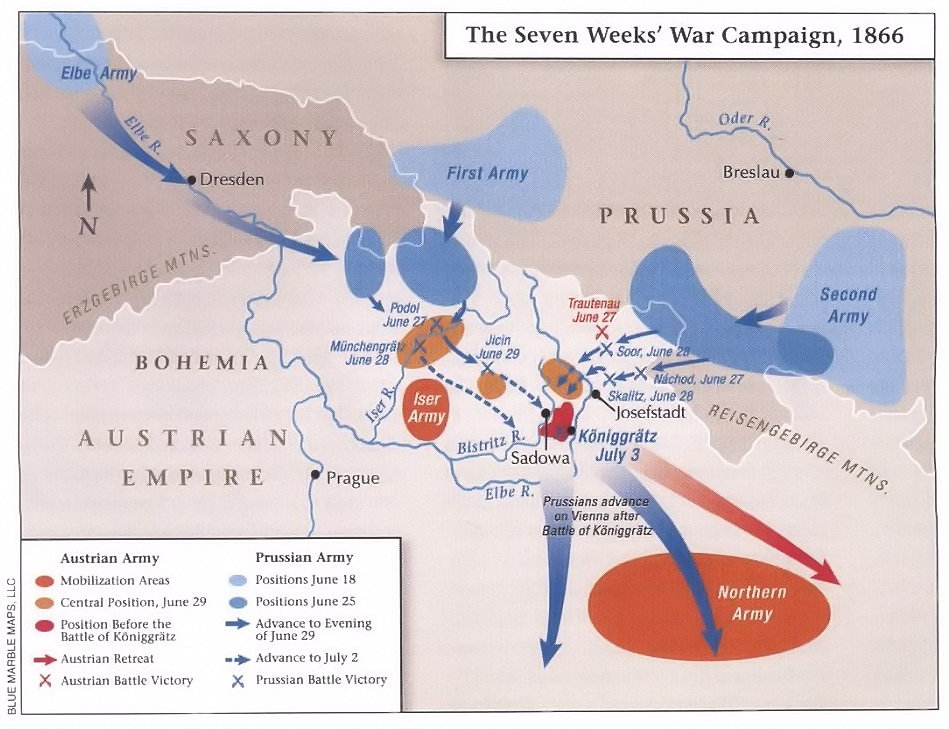 May 2015: The largest and most one–sided battle of the nineteenth century?  Well, the first part of the statement is correct. There were more troops on the field of Königgrätz than any other battle, prior to it or after it until the battle of Mukden (20th February–10th March 1905). Even the greatest battle of the century thus far, Leipzig in 1813, also known as the Battle of Nations, in which, on the final day of the battle the troops on both sides numbered, after losses sustained during the previous days fighting, some 420,000 men engaged, still fell short of the 430,000 plus who stood on the field of Königgrätz. This monograph is also available as a fully illustrated book published through Lulu.
March 2012: After many requests, I have produced a copy of Lieutenant – Colonel Neill Malcolm's work was "BOHEMIA 1866". This is available through Lulu for £6-50 and has been fully retyped and includes copies of all the original maps. The book gives much valuable information regarding the campaign and battles of the Austro-Prussian War of 1866.
Jan 2003: The Seven Week War between Prussia and Austria – 1866.